At last, we have a decision. The judging ended in a brutal smackdown that left my ears ringing. We have four winners and weíll be contacting you to confirm your shipping addresses. This was a fantastic contest and we appreciate everyone who took the time to take a photo. Everyone deserved a prize, but if you didnít win one blame Paul! And now, without further ado.
Tim, our tinfoil knight, beat out the competition. Why? Because he can fight and bake a potato at the same time.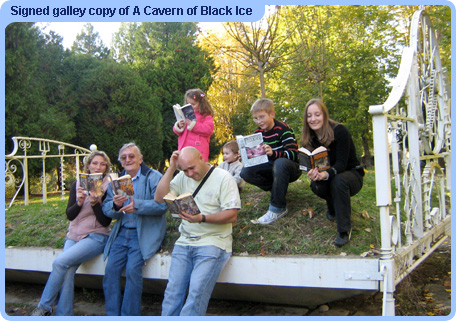 This goes to the wonderful Sylvie and family for their superb photo on the giant bed. The U.S. galley copy of A Cavern of Black Ice is the first book in the series to appear in print. Itís extremely rare. Itís a promotional copy, produced by the publisher about six months in advance of the actual book. Very few were produced. Itís unusual in that it features the actual artwork in full color on the cover (most publishers spare the expense and use simple black and white printing). It also features the uncorrected text of the book so Sylvie can now spend many happy hours cataloging my errors. One of these signed beauties will now wing its way across the Atlantic to France.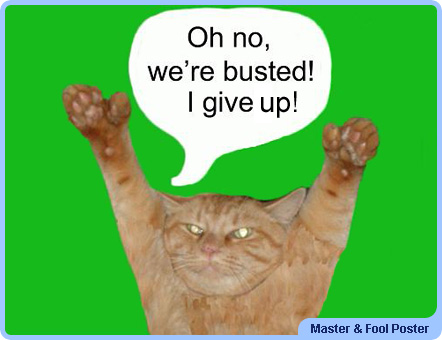 This one goes out to Angela, co-author of the Booknapping. Itís a beautiful frameable print by renowned artists Darrell K. Sweet. It will be Angelaís decision whether or not to have it signed.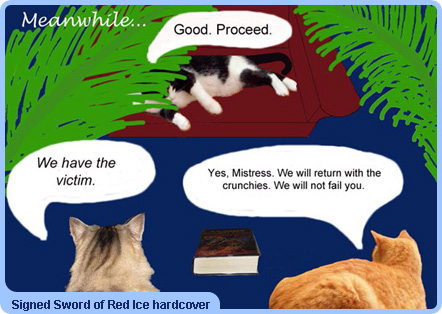 This goes to Sylvia who was Angelaís partner in crime. The Booknapping was so much fun I didnít want it to end.
Congratulations to all the winners. Letís do this again. Soon. If you have any ideas for future contests drop me a line.