Here are a few photos taken at Mysterious Galaxy bookstore in San Diego last week. Wanting to do something a little bit different than the normal author reading/signing, I decided to hold an "Epic Fantasy Quiz."
Twenty one questions on writers such as Tolkien, Ursula K. LeGuin, T.H. White, Roger Zelazny and Elizabeth Moon (all favorites of mine!) and other such oddments as fantasy food, cattle lifting, the new Star Wars novelization, and small household pests were the order of the day. It was a pretty tough quiz, but some Mysterious Galaxy regulars still managed to outsmart the quizmaster (I hate it when that happens!).
The grand prize winner and first runner up received spiffy jvj.com baseball hats, while the third and fourth prizes were personalized coffee mugs. The quizmaster would like to thank her lovely assistant Vanna (otherwise known as Patrick Hefferman), and the rest of the staff at Mysterious Galaxy for being so hospitable and tolerant!
---
If you'd like to test your Epic Fantasy wits, stop by this page (if you dare!) and take the quiz yourself.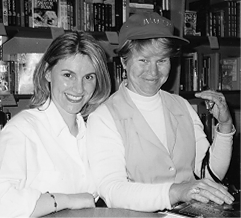 Here she is: The Grand Prize Winner. This charming lady beat a roomful of experts to claim her prize!
And the first runner up is...Kevin from LA! In addition to being the only person who knew the answer to the toughest question of the entire quiz, Kevin was responsible for the "Cattle Lifting" debacle! Elizabethan writer Thomas Mallory was accused of rape, larceny and the rather strangely named crime of cattle lifting. I thought nothing of this, until Kevin pointed out that it sounded like a three day Olympic event!